NEW SERVICE: Low-Touch Online Engagement Platform ... Read More >
Social Video Intelligence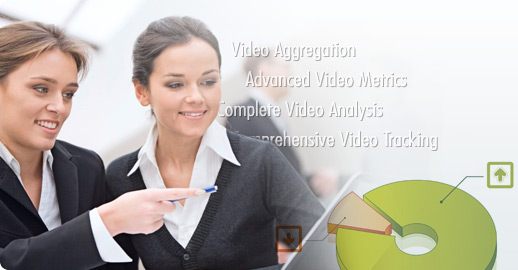 Can you afford to miss out on the potential of video?
video on a Website engages viewers more, leads to higher time spent on site and a higher conversion rate
video results on search engines attract viewers more than any other content and lead to higher click-throughs
video is 50 times more likely to turn up on the first page of Google search results than other content
Web users now make almost as many searches for videos as for any other content
Strategy & Execution

We can help you plan a successful online video strategy, social video channel and execute appropriately as part of your marketing and communication mix.

Metrics & Tools

Our proprietary video metrics solution helps optimise a social video strategy through measuring success, creating reports and alerts, and analysis of competitive video.

Data

If you need a comprehensive and up-to-date video feed for your application with daily metrics, why write your own crawler when you can just use our feeds.
---
Latest News