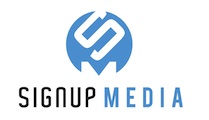 SignUp Media's monitoring and evaluation tools combine research intelligence, quality content, text-mining methods and visualization capability into powerful solutions that give their clients the ability to track and document the effectiveness of their communications activities. By more effectively monitoring key subjects across a broad range of traditional and social media, their clients better understand the strengths and weaknesses of enterprise media strategies and help to identify new opportunities for success. SignUp Media's product suite includes tools for measuring exposure, interpreting coverage, benchmarking results against communications efforts and documenting critical events.



The Inspiration Room(tm) is a revolutionary website that maps creative minds worldwide. The Inspiration Room's unique database of video content together with Vquence's technology measure and track video usage behaviour. This provides a unique solution for monetizing video.
Vquence partners with FUSE for the preparation and market testing of video through FUSEAirplay. FUSE delivers video content for market research surveys written in SPSS, Confirmit, Quest and Web2.0 as well as many other platforms.